杨锋艺术与教育基金会2018年度展览 希腊艺术家阿波斯托洛斯·乔治亚40年回顾展 在华首展《情景》巡展至上海留下空间
Frank F. Yang Art and Education Foundation 2018 Exhibition Series 40 Years Retrospective of Greek artist Apostolos Georgiou "Situations" is brought to SPARE Space in Shanghai, China
阿波斯托洛斯·乔治亚:情景
策展人:巴里·史瓦伯斯基
展期:2018年9月6日至10月20日
开幕:2018年9月6日 15:00
主办:杨锋艺术与教育基金会
协办:希腊共和国驻广州总领事馆
赞助:蓝海资本、优聚资本
地址:留下空间-上海市黄浦区建国西路56弄29号
今年3月至8月在杨锋艺术与教育基金会有空间与额外空间呈现的2018年度展览《阿波斯托洛斯·乔治亚:情景》将于9月6日巡展至上海留下空间。此次展览为希腊艺术家阿波斯托洛斯·乔治亚在华首个展览,也是横跨艺术家创作生涯40年的中型回顾展。希腊艺术家阿波斯托洛斯·乔治亚40年来专注于绘画创作,离群索居,其作品创作灵感来源于对生活的观察,画作表现冲突、紧张或荒诞场景,充满内在张力。2017年,艺术家受邀参加第14届卡塞尔文献展,其作品受到国际广泛的瞩目,作品也获得希腊当代艺术美术馆和蓬皮杜美术馆等多家机构收藏。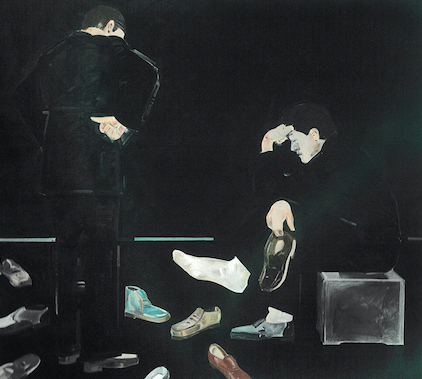 阿波斯托洛斯·乔治亚,无题,布面丙烯,190 x 210 厘米,1984,©️阿波斯托洛斯·乔治亚,致谢:杨锋艺术与教育基金会
本展特别邀请了资深艺评人、诗人与策展人巴里·史瓦伯斯基策划,巡展十余件创作时间从1970年代至今的作品。策展人将展名定为"情景"(situations),此英文字词来源于拉丁语词根"situs",指的是此地、此处,但却不是由道具、演员所组成的戏剧场景,而是指活生生的人们与他们周遭生活所发的事情的现场。这也就带出"情景"一词让人耐人寻味的地方——活生生的人与场景,但是,每个人的心理状态却各自相异。在这里,策展人使用此词并强调的便是这种差异化极大,充满张力的景象,而这也是艺术家40年来不断捕捉与描画的"情景"。
关于艺术家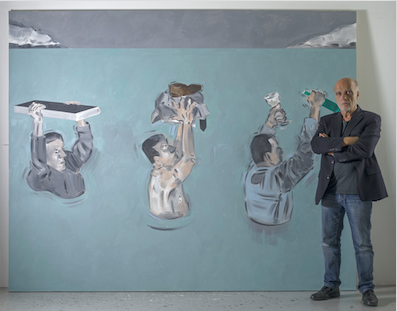 阿波斯托洛斯·乔治亚(1952年出生于希腊塞萨洛尼基市,现工作生活于希腊雅典市),他曾在维也纳的维也纳应用艺术大学学习建筑,并在弗洛伦萨国立美术学院学习油画。他的近期个展有《阿波斯托洛斯·乔治亚: 情景》(杨锋艺术与教育基金会,深圳,中国,2018)、《阿波斯托洛斯·乔治亚:图画》( 国立当代艺术博物馆,雅典,希腊,2012)。参加的群展包括《收藏品》(摩纳哥新国立博物馆,摩纳哥城,摩纳哥,2018)、《欧洲油画的新界限II》(弗雷西拉斯艺术博物馆,雅典,希腊,2018)、《美术馆作品》(蓬皮杜现代美术馆,巴黎,法国,2017)、《紧急对话:雅典与安特卫普》(国立当代艺术博物馆,雅典,希腊,2017)、《闭嘴然后画画》(维多利亚国家美术馆,墨尔本,澳大利亚,2016)、《烧掉房子》(第十届光州双年展,光州,韩国,2014)等。
关于策展人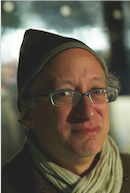 巴里·史瓦伯斯基(出生于新泽西,现生活和工作于美国纽约)是《民族周刊》的艺术评论家和《艺术论坛》的国际展评板块的联合主编。他近期出版的书籍包括一系列的文章,如《异教徒的语言》,2017和《无期限的客人:现在中的艺术》,2016 。他担任英国出版社伦德·休姆夫雷出版公司的一系列关于当代画家的新专著主编。他还为多个展览做过策展人,包括《奇塔伊:在家的流放》(马乐伯当代艺术中心,纽约,美国,2017)。
Apostolos Georgiou: Situations
Curator: Barry Schwabsky
Duration: 6 Sep 2018 - 20 Oct 2018
Opening: 15:00, 6 Sep. 2018, SPARE Space
Host: Frank F. Yang Art and Education Foundation
Co-Host: Consulate General of Greece in Guangzhou
Sponsor: BOCG, Youjoy Capital
Address:SPARE Space –Lane 56, #29 West Jianguo Road, Shanghai
2018 Exhibition Series "Situations: Apostolos Georgiou", presented by Frank F. Yang Art and Education Foundation at YOU Space and EXTRA Space in Shenzhen, is brought to SPARE Space in Shanghai on Sep 6. This exhibition marks the artist's premiere in China, a moderate scale retrospective of his 40 years of artistic practice. Over the past four decades, Apostolos Georgiou lived in reclusion to focus on painting and drawing. His works are inspired by everyday observations from life, replete of tension. These works depict the scenarios of conflict, anxiety or absurdity. In 2017, Georgiou was invited to participate in the 14th Documenta whose works had drawn attentions worldwide, of which many were acquired by Contemporary Art Museum of Greece, Centre Pompidou and other art institutions.
Curated by the seasoned art critic, poet and curator Barry Schwabsky, the exhibition travelling to SPARE space in Shanghai presents more than 10 works selected from 1970s to the present. The exhibition title, "Situations" does not suggest a theatrical scene consists of props and actors, but rather draws from its Latin root situs, referring to, here, this place, and the lively people and the scenes in the life around them. In other words, the term "Situations" affords much food for thoughts about: the lively people and scenarios, in spite of their disparate psyches. Here, by using this term, the curator emphasizes on the alienating scenarios that are full of tension, manifested in the "situations" that the artist has been capturing and depicting over the last 40 years.
About the Artist
Apostolos Georgiou (B. 1952, Thessaloniki, Greece; works and lives in Athens, Greece) studied architecture at Hochschule für Angewandte Kunst in Vienna and painting at Accademia di Belle Arti di Firenze. He has had recent solo presentations as Apostolos Georgiou: Situations (Frank F Yang Art and Education Foundation, Shenzhen, China, 2018), Apostolos Georgiou: Painting (National Museum of Contemporary Art, Athens, Greece, 2012). Group exhibitions include The Collection (Nouveau Musée National de Monaco, Villa Paloma, Monaco, 2018), New Horizons of European Painting II (Frissiras Museum, Athens, Greece, 2018), Musée en oeuvre(s) (Centre Pompidou, Paris, France, 2017), Urgent Conversations: Athens-Antwerp (National Museum of Contemporary Art, Athens, Greece, 2017), Shut up and Paint (National Gallery of Victoria, Melbourne, Australia, 2016), Burning Down The House (10th Gwangju Biennale, Gwangju, Korea,2014) etc.
About the Curator
Barry Schwabsky(b. New Jersey, now lives and works in New York, USA) is art critic for The Nation and co-editor of international reviews for Artforum. His recent books include collections of essays Heretics of Language, 2017 and The Perpetual Guest: Art in the Unfinished Present, 2016. He is the editor of a new series of monographs on contemporary painters for the British publisher Lund Humphries, and he has curated a number of exhibitions including R.B. Kitaj: The Exile at Home (Marlborough Contemporary, New York, USA, 2017).